French journalist Olivier Dubois returned home on Tuesday following nearly two years in captivity in the Sahel. He was greeted by his family and President Emmanuel Macron at an airport near Paris.
Dubois, 48, and 61-year-old U.S. aid worker Jeffery Woodke, who was seized in southwest Niger in October 2016 - arrived in the Niger capital, Niamey, on Monday after being freed.
Dubois stepped off the plane at Villacoublay air base on Tuesday and went straight to hug family members waiting for him on the tarmac.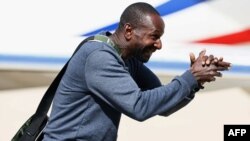 French journalist Olivier Dubois, who was held hostage in Mali for nearly two years by the Support Group for Islam and Muslims, reacts as he arrives at an airport near Paris, March 21, 2023.
Macron also embraced him in front of the cameras, in a brief break from domestic political turmoil over his government ramming through a divisive pensions reform.
'Yesterday, I couldn't believe it when I landed at the airport [in Niamey], but it's starting to sink in,' Dubois told AFP.
'I was not mistreated, nor humiliated or hit,' he said. 'There were some tough moments, but not physically tough.'
'Tired but I'm fine'
Dubois was kidnapped in Mali on April 8, 2021.
In a video released by his captors, Dubois said he was taken by the Support Group for Islam and Muslims, or GSIM, the main jihadist alliance in the Sahel, which is linked to Al-Qaeda.
'I feel tired but I'm fine,' he told journalists on Monday. 'I want to pay tribute to Niger for its skills in this delicate mission and pay tribute to France, to all those who have helped me to be here today.'
Dubois had lived in Mali since 2015 and was freelancing for French daily Liberation when he was seized.
French President Emmanuel Macron greets French journalist Olivier Dubois upon the journalist's arrival at an airport near Paris on March 21, 2023. Dubois had just been freed after behind held hostage in Mali for nearly two years.
Details of the two men's release remain unclear, although Woodke on Monday thanked the 'Nigerian, American and French governments,' telling journalists: 'Vive la France.'
Niger Interior Minister Hamadou Souley, who was at Niamey airport, said: 'The hostages were picked up safe and sound by the Nigerian authorities before being handed over to the French and American authorities.'
Christophe Deloire, who is the head of watchdog Reporters Without Borders, said Tuesday he did not know why Dubois had been freed 'or why now.'
Dubois is believed to have been the last French citizen held hostage by a non-state actor following the release in Mali of aid worker Sophie Petronin in 2020.
'Nightmare is over'
Paris considers six citizens officially confirmed to be behind bars in Iran as hostages of a state.
'It's just incredible, it's something that we've been hoping for, for two years,' the journalist's sister Canele Bernard told AFP on Monday. 'The nightmare is over for him and for his family. He will be able to get on with living, although it will be hard for him to get over it.'
At Niamey airport on Monday, Woodke was at Dubois' side, leaning on a stick.
Woodke was seized at gunpoint from his home in Abalak in the Tahoua region of southwestern Niger. He had served as a missionary and humanitarian aid worker in Niger for 32 years, according to a supporters' website.
He was said to speak the local language Tamasheq fluently, as well as Fula and Arabic.
U.S. President Joe Biden welcomed the freeing of Woodke and thanked the government of Niger, calling it 'a critical partner in helping to secure his release.'
Other Western hostages
The Sahel has been ravaged by a jihadist campaign that began in northern Mali in 2012.
In 2015, the insurgency swept into neighboring Burkina Faso and Niger.
The violence has killed thousands of people and displaced millions from their homes, and increased risks for journalists and humanitarian workers.
Two International Committee of the Red Cross employees kidnapped in Mali earlier this year were released on Sunday.
At least six other Western hostages are believed to still be held in the Sahel.
Romanian mineworker Iulian Ghergut and elderly Australian surgeon Arthur Kenneth Elliott were both abducted in Burkina Faso, in 2015 and 2016, respectively.
Armed men kidnapped an Italian couple and their child, as well as a Togolese national in southeastern Mali in May 2022. Italian media blamed the abductions on jihadists.
German priest Hans-Joachim Lohre is believed to have been held hostage in Mali since late 2022.
Niger is an important Western ally in the troubled region, hosting a French military base and a U.S. drone base.